24 Aug 2017
In search of Herbes de Provence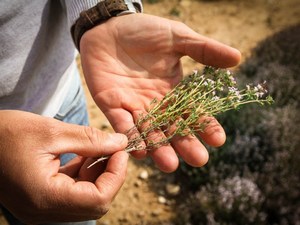 On the heels of the "Polish plumber", here is Polish thyme. The expression "Herbes de Provence" is not a protected designation, so the overwhelming majority of blends sold in France come from Eastern European countries or other regions around the Mediterranean, with no requirements for either quality or composition. At the Trets cooperative, near Aix-en-Provence, the geographical origin is guaranteed and the aromatic delicacy incomparable.
The herbs of Provence don't grow only in the hills
In May, on the Trets plain, the purple fields...
Winter savory (Satureja montana) 26%, Oregano (Origanum vulgare) 26%, Rosemary (Rosmarinus officinalis) 26%, Thyme (Thymus vulgaris) [19% and 3% finely-chopped]. Part of it comes from a varietal selection of plants from the hillside.
The recipe for this Herbes de Provence blend has been designed to yield a perfect aromatic balance of the 4 plants used in it.
Our real Herbes de Provence imbue all the fragrances of Provence, hillside scents.